Earlier this month we held the baby shower for my daughter, Melissa, that is expecting her first baby in late October. Little Gavin is scheduled to arrive around October 22nd and we couldn't be more excited to welcome him!!
Melissa already loves foxes and since we were nearing Fall, she decided on a Woodland Critters themed shower. I am far from a party planner and most family celebrations include some streamers, balloons, and maybe fancy paper plates...so doing the entire shower was definitely a step outside my normal comfort zone, but it was also a ton of fun thanks to Google and Pinterest! Since I'm not the planner type of person, I wanted to share what we did to make it fun and festive even though we are party-throwing amateurs.
But first, let's take a look at the happy couple!
Curtis & Melissa - baby bump compliments of Gavin
Melissa & Curtis are a little BMX family, so this picture is perfect. They both ride and I'm sure Gavin will be riding his own bike before he can even walk. The things Melissa has missed the most during her pregnancy are riding her bike and sushi. I'm sure Gavin will be a fixture at the bike parks as they take turns with him while the other rides. They are absolutely adorable, right?? Okay, I might be a little prejudiced though. *wink*
Okay, so back to the shower. We got the majority of our decorations at Walmart and Michael's Crafts, and I had some fall decorations already. I will admit that throwing a Woodland Critters themed party during a different time of year might be a lot more difficult to do. We were in the right season, so the pickings were pretty good especially since we shopped in late August/early September. I know when I go to the store now it is a lot harder to find the same items we purchased already.
*Note: We had the above picture printed in 11x14 then put a white mat on it that everyone signed as the guest book with their good wishes for the family. At the end of the party, we put it in a frame that we purchased at Michael's. I am SO very glad that we did this because that picture is going to mean so much to them over the years!
Invitations
I designed the invitation myself on Microsoft Word using some clip art that I purchased from Etsy for only $6.00. One of the best purchases I made and I'm so glad that it was super easy to download and use (we also used for more than just the invites...as you will see soon)! I won't go into the drama surrounding the actual PRINTING of said invitations because of several home printer malfunctions on my end, but let's just say that if I had it to do over again, I would have just paid a little more to buy the invitations from an Etsy shop and have them all printed and shipped to me complete. Would have spared considerable panic and a headache or two.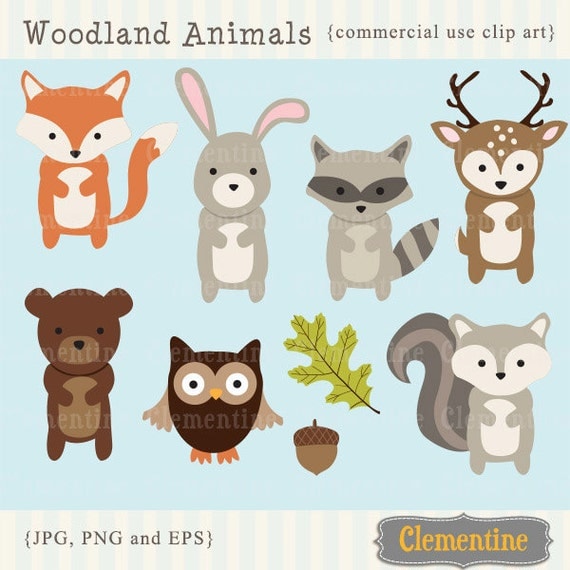 Decorations:
Since we were doing a Woodland Critters theme, we went with a lot of fall inspired decorations. We picked up the following items at Walmart:
Woodland Critters Tablecloth
Fake Fall leaves and Flowers
Foam Block
Burlap Runner
Fox Cookie Jar
Fox Plates
Fox Ramekins
Fox Ornament
2 Small Bales of Hay
Various Fall/Burlap or Twine Ribbon
Basket
Paper Straws
2 Large Glass Beverage Dispensers
From Michael's Crafts we got:
Small Chalkboard Stands
Chalkboard Sign (Welcome Gavin in the pictures)
Cake Pop Sticks (for the cupcake decorations)
Mason Jar Candle Holders x2
Colored Mason Jars x2 (we got these on clearance)
Fall Placements x2 (one in orange and one in brown)
Chalkboard Banner
Orange Ribbon
Brown Paint
Chalk Pen
Cork Letter 'G'
Small Decorative Acorns
We also got 36 mason jars from Bed, Bath & Beyond (absolutely the BEST price I found and I did a ton of searching for these!!). As I mentioned I already had several items like the Partylite candle "Ball" on one of the tables (in the above picture), one glass beverage dispenser, all of the serving dishes, fall leaves and fall confetti. We did have some minor crafting to take care of - but for a crew of non-crafters it was all very easy with some scissors, paintbrush, and a glue gun. So if WE could do this, ANYONE could.
The slates were blank and we hand drew the letters and decorations with a chalk pen. Thankfully we nailed it in one attempt and I was super proud of how it came out! I did everything but the leaf - Mommy to Be did that one.
The mommy-to-be decorated all of the mason jars that we used for drinks with a burlap ribbon and some twine - they were adorable but apparently I never took a picture of those. #fail! She also decorated two of the beverage dispensers with ribbons. We painted all of the small chalkboard stands that we purchased at Michael's with some brown paint (they were plain balsa wood before painting) and we printed, then cut, the same small woodland critters that we used on the invites (see above) and glued to cake pop sticks for the cupcakes.
Chalk Stands before painting (these were only $.99 each at Michael's)
Auntie-to-be, Michelle, "happily" painting all the stands. You can see two of the finished stands towards the top of pic.
One of the hardest crafts was the cupcake decorations - cutting out all of those little woodland critters was so tedious! But between us all working at it, it actually didn't take that long and it was adorable once done. I feel like the time we spent on it was worth it.
Slave labor may be free, but you might pay from listening to all the gripes! LOL Her fingers may have been numb and bleeding by this time...(j/k, j/k)
Decorated Beverage Dispenser
Food
We had a nice little spread of snacks including:
Cheese and Cracker platter - I bought the cheese trays at Target at $2.99 for 1 pound which was a waaaaaayyyy better price than buying those cheese and cracker platters that are already assembled or even better than just cheese cubes that were about $8.99 for 1 pound. The cheese tray we had was Swiss, Cheddar, Colby Jack and Pepper Jack. The crackers were Triscuit, regular Townhouse, and Townhouse Focaccia.
Caramel Apples - We had Granny Smith and Fuji apples that we sliced and soaked in the lemon juice mixture to keep from browning and caramel apple dip purchased at the local grocery store.
Homebaked Breads - We served a selection of breads that I baked the day before the shower: Caramel Glazed Apple Bread, Dark Chocolate Raspberry Banana Bread, and Pumpkin Bread
Pumpkin Cookies and mini-bundt cake Pumpkins (my daughter-in-law baked these and they were adorable! You can see them in the first picture below. And sorry - couldn't find the recipe for the cookies at the moment).
A mix of Reese's Pieces, Candy Corn, and yogurt raisin trail mix from Sprout's.
Pizza from a local pizzeria.
Cupcakes: My DIL baked these also from packaged cake mix (carrot cake and golden vanilla). We frosted both kinds of cake with either Cream Cheese frosting (we colored this frosting tan so people would know which was which) and Vanilla frosting (both just regular Duncan Hines frosting tubs).
Drinks were: Lemonade, Margaritas (the adult-only kind), and Cider Punch. We also had Coors Light and Iced Water available along with some Dr. Pepper and Sprite. On the Cider Punch we could not find sparkling white grape juice and I didn't want to use wine, so we just used regular white grape juice. I would say the Cider Punch was the most popular item, although the margaritas were close behind in popularity.
You can see the little bundt pumpkins to the left here!
All the BREADS!
There's all the woodland critters we toiled cutting out and gluing onto sticks! See, totally worth it, right? :-D
Games
We played several of the basics like guessing the size of mommy's tummy (always hilarious to see the results!), and the one where you can't say baby. We also did a Scattergories-type game that I bought as a pad of paper at Michael's where you had to list a baby item for each letter of the alphabet. I gave the guests 2 minutes to name as many as possible and I think the max was 17. The answers were pretty interesting though! Finally, we had a diaper cake that we left out during the shower and then gave them an additional 2 minutes to look at and memorize as many items as possible. In hindsight, I would have shortened it to 60 seconds instead. Two minutes was a bit long.
Grandma-to-Be on Dad's side of the family made the diaper cake - there was a TON of awesome stuff in there!
It was truly an amazing baby shower and we are so excited for Gavin to arrive! I do wish that I had taken a lot more pictures. The Mom-to-Be is a photographer so she has a really great camera, but we were all so busy enjoying ourselves and hosting the party that very few pictures actually got taken. I completely missed taking a picture of the bar where the drinks were set up. BOO! And the lighting was so bad while she was opening presents that they all came out as just blobs with sunlight behind them. Total BOO again! Okay, so I'm going to be honest here for a second...it was probably close to $600 to pull this thing off and I didn't buy the pizza or the diaper cake or any of the prizes - the other Grandma-to-Be took care of those things. Probably more than I should have spent, but it all adds up pretty quickly! So it wasn't necessarily a shower thrown on a "budget", but I think it would be fairly easy to cut down on some of the costs if needed. We ended up having WAY more food and drinks than we needed, so our respective workplaces were very happy on Monday to help dispose of the extra bread and cookies. Hahaha We spent about three weekends in all shopping and prepping and spent the entire Friday before the shower baking. But in the end, the money spent and the time it took all were well worth it. The kids had a blast and it was a party like we've never thrown before. Now, we just wait for little Gavin!
The Little BMX Family is ready for their new addition!